What do the companies Disney, Coca-Cola and Hot Wheels have in common? They're all brands that have been clients of Brittany Driscoll, who started her career off in marketing and advertising before co-founding hair blowout franchise, Drybar, along with Alli Webb.
After growing Drybar to more than 150 locations, Driscoll and Webb decided to launch a massage concept centered around an app-based booking and payment platform. Aptly named Squeeze, the first location opened in March 2019 in Studio City Los Angeles in California.
Driscoll was at Drybar "for four years, produced over $100 million in revenue, opened over 50 doors, supported franchisees, landed into Sephora and got into international expansion," she rattled off. "It was an amazing experience and I loved every second of it, but I'm entrepreneurial at heart and I wanted to get back into start-up mode."
Driscoll's story is part of a Franchise Times digital series this month featuring founder success stories.
The idea was born out of Driscoll and Webb seeing a hole in the massage landscape—a completely personalized and customizable massage experience at an affordable price point that enables technology to book appointments, set preferences and pay and tip. "It's like Uber and Postmates where you rate and tip on your phone at your leisure, so they're not asking at the cash register. All that is eliminated," Driscoll said. "I like to say our guest can walk in and float out."
Squeeze guests can also choose from various music playlists and adjust the room lighting, and even have a "ready" button they tap on their phone after they're finished changing and are ready for their therapist to enter the room.
"Our biggest differentiator, in massage but retail as a whole is our technology," Driscoll added. "…You can set preferences for areas of the body, more or less pressure, if you prefer the table heated, oil or lotion, it's all saved and the therapist reviews it prior to guests walking in the door, so we're taking out part of that awkward exchange and ensuring the therapist has all that information at their disposal."
Though they opened their flagship in March 2019 and were open for just 11 months before the pandemic hit, Squeeze generated $1.5 million in revenue and had about 1,000 members, Driscoll said, plus they generated an impressive 4.9 rating in the App Store out of about 150 reviews.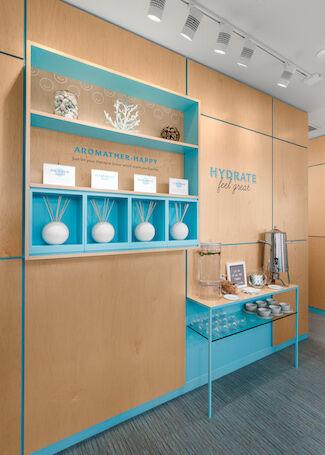 "We had one of those 'aha' moments, recognizing from our experience at Drybar and building Squeeze, that we have a very unique secret sauce pronged approach to constructing a retail experience," Driscoll said, from their "architectural design with surprise and delight elements, branding, how approachable and whimsical it is to the revolutionary technology we have and how that is enabling a great experience on both the guest and team member side."
Squeeze's membership-based model will help generate recurring revenue for franchisees, which they're seeking across the U.S. But unlike some of their competitors in the space, Squeeze allows guests to choose whether they want to opt into membership through their app, so the front desk receptionist doesn't have to provide a sales pitch.
"In the service industry, we cater to people having a great experience, and having to push things feels disingenuous to the core service we're trying to provide," Driscoll said. "It was a big insight for us and proponent of our experience, and it's proving to be one thing for the team in particular—the gratefulness they're not having to sell memberships."
Though Driscoll said they sent out surveys to find out which areas of the massage experience needed improvement, she gave credit to Alli Webb's brother, Michael Landau, a co-founder and advisor to Squeeze and an active massage-goer. He set out to ensure Squeeze didn't have the hiccups he experienced and "take away the headache of what we all experience in the typical setup today," Driscoll added.
Each Squeeze location will range from 2,800 to 3,500 square feet and feature 10 to 14 massage suites. The investment ranges from $662,850 and $996,850 to open a Squeeze franchise, which includes working capital and franchise fees of $60,000.
Though they haven't sold any franchises to date, Driscoll said they're "in several conversations with franchisees from around the country, we'll hopefully be announcing very soon and picking up franchising efforts." She hopes to have 35 new locations in development by the end of 2021.
Related: WellBiz Brands Buys Blowout Franchise Drybar
Credit: Source link